Although I have build several plastic ships so far, I never tried to make a wooden model. Inspired by a friend in Sweden, who makes really good looking wooden ship models, I wanted to see if I would be able to build such a model as well.
So I started to look for a model to build. It should be a model that someone could build who is not experienced working with this material, but it also should be an "intersting" model. After a while, I saw an auction at ebay, the model of a little steam paddle wheel tug boat from the 19th century which looked quite good. So I tried to win this auction and in the end I was successful with it - and got the Uncle Sam .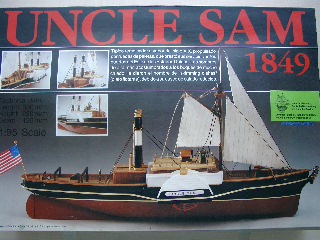 The box describes the ship as following:
"The Uncle Sam is typical of the steam driven paddle wheel tugs that worked the harbors of the Eastern United States during the early 1800's. Because of their shallow draft hull construction, they were often called 'skimming dishes' by men from ocean-going steamers, who were accustomed to deep-draft hulls."
In the following pages, I want to show the construction log of this model- which hopefully will lead to the complete model one day.... :)